I have been thinking of how to start this post for days now, but I haven't found an introduction which makes me exceedingly happy. I mean mostly everyone knows Santa Monica or has heard of it at some point. I visited the city, which is in western Los Angeles, in November last year for the first time. I liked it so much that I went back twice this year even if it was only at the end of another vacation for a few days. My German friends are now convinced that I'm a Santa Monica addict.
There is nowhere else I have gotten to know as quickly so many friendly people who have become friends over the last few months and besides that: the beach is awesome. But let's take a look at my favorite things to do in Santa Monica.
Take a walk on the boardwalk
You can walk, skate or ride the bike on the boardwalk. The best way is to the south and it won't take you too long until you arrive at Venice Beach. I have already published a post about biking in Santa Monica and Venice here.
Go shopping on Third Street and Montana Avenue
The best thing about Santa Monica is that you don't have to decide if you want to go shopping or on the beach, you can have both. The most and best shopping areas are Third Street and Montana Avenue. You find the popular brands like Aldo Shoes, Urban Outfitters or GAP in Third Street. Montana Avenue has more cute and small shops with cult and niche brands which are a bit more expensive.
Have breakfast at Perry's Café
That's always the first thing I do on my first day of a trip to Santa Monica. Perry's Beach Café is located on the beach front and you can relax on beach chairs while you enjoy the view to the beach volleyball court and the ocean.
Take photos at the Palisades Park
After shopping or right before hitting the beach, take a short break at the Palisades Park. The view to the pier and over the ocean is amazing and you can take a few Santa Monica photos with a lot of palm trees!
Enjoy a lazy beach day
The beach in Santa Monica is very clean. There are a lot of restrooms, restaurants and cafés – so you can stay a whole day on the beach. Take time off and hang out with a book, some friends, try to surf, take a walk and go swimming.
Ride the roller coaster on the pier
The pier is the main attraction in Santa Monica and you can see the roller coaster from far away. My friend shot an iPhone video while we were sitting and screaming in the roller coaster but I can't share it here because she still has it 😉 But we had a blast and for one ticket you get two rides.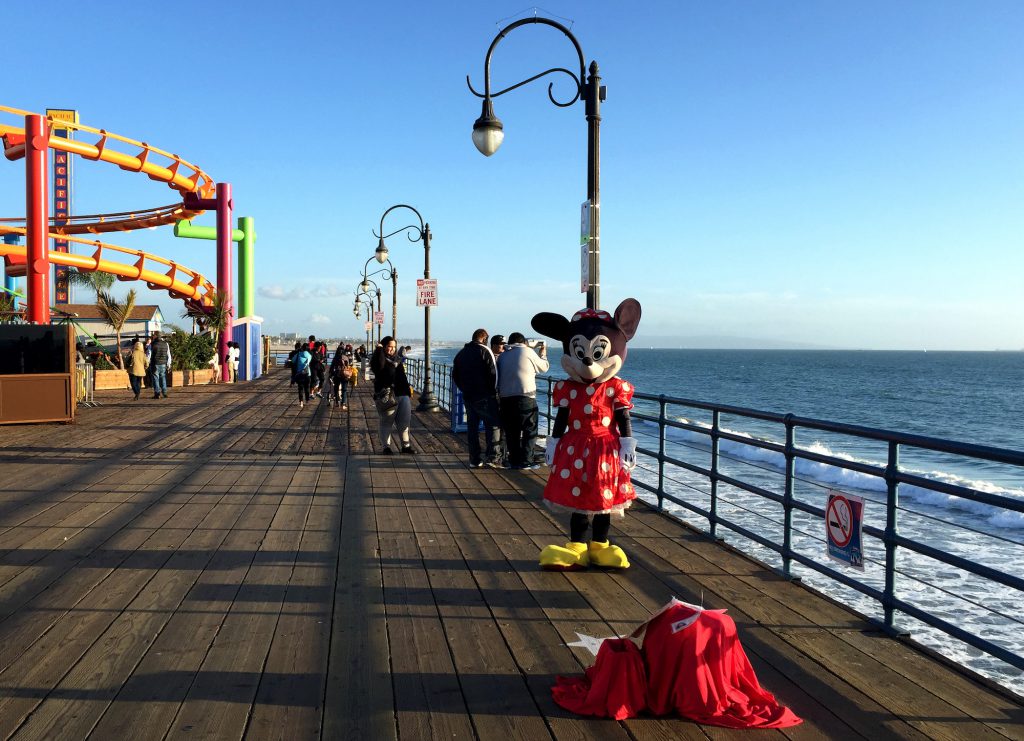 Eat at Bubba Gump Shrimps
If you are already on the pier, it would be a good opportunity to eat at Bubba Gump Shrimps. It is the most famous shrimp restaurant in the USA and everyone knows it from the movie "Forest Gump". Do you remember it? You can take the food outside and if you are fortunate enough you can listen to some live music while you are eating your shrimps.
Watch the amazing sunsets on the beach
I promise, you will get addicted to sunsets when you are in Santa Monica. They are even better in winter. The colors are amazing and the view is clear. But from November until February the sunsets come early around 5/6pm, so make sure to be on time on the beach.
Share it, if you like it!