There is a saying that you don't have to go far to see beautiful places. As much as I love traveling and discovering new areas, I didn't explore my own country enough in the last years. But there is also a lot to see in Germany. For my birthday, I decided not to throw a party. I preferred to go on a weekend trip together with my partner in crime, Mischi the dog.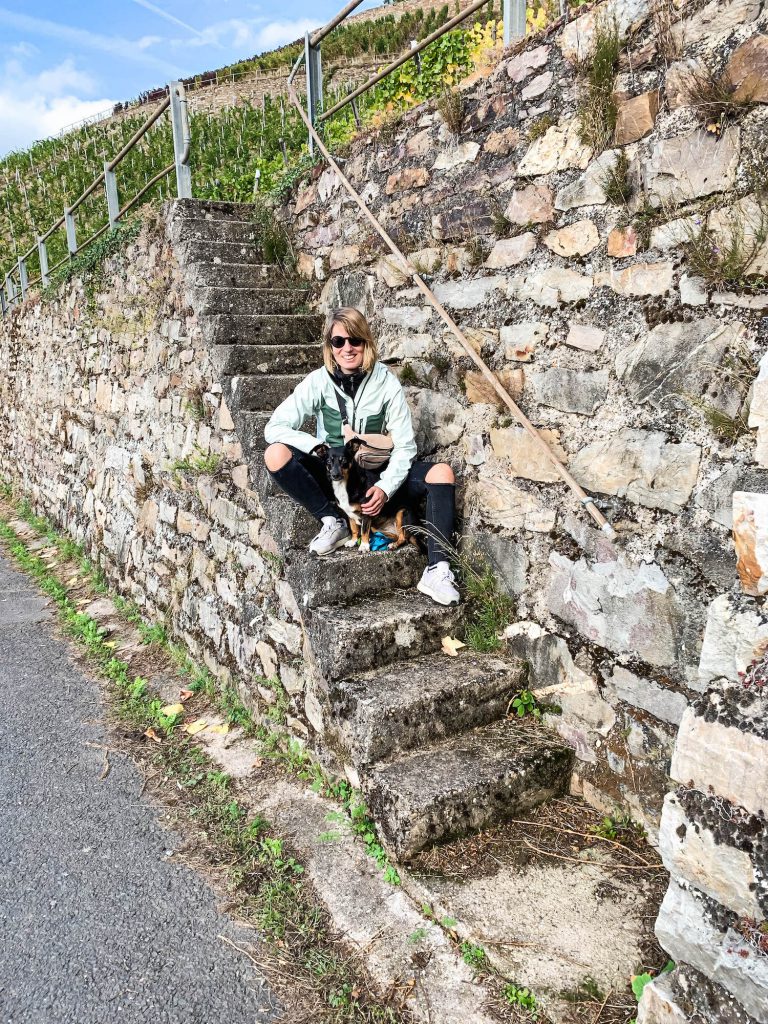 My birthday is in September which is the time of grape harvest in the vineyards. One of the most famous and biggest vine lands in Germany is the Rheingau area, close to Frankfurt am Main. It is also called the "German Riviera", due to its mild climate throughout the year and its proximity to the Rhine river. The five cities in the area are Eltville, Oestrich-Winkel, Geisenheim, Ruedesheim and Lorch and there are also numerous villages which are worth the visit.
We stayed in Ruedesheim where we started on Friday night with a visit in the Drosselgasse – a small alley packed with vine restaurants, bars and live music. There was much more party going on than expected, which made it hard to get up on the next day to hike through the vineyards up to the Niederwalddenkmal and further to Assmannshausen, a smaller village. But we did it anyway and luckily the hangover disappeared.
Next Stops on Sunday were Geisenheim, Oestrich-Winkel and Eltville. First breakfast in Geisenheim and then we hiked in Oestrich-Winkel again around the vineyards until we reached the vine estate Schloss Vollrads to enjoy a break in the scenic garden before we took the car to Eltville.
Eltville was one of my favorites on that trip. We did some shopping and a dog walk on the rhine. There are small vine bars on the riverside and the whole city is very cute with ancient architecture and castle walls. Maybe, I would stay in Eltville next time. Just because it's so cute and have nice shops.
All in all, I was very happy with our trip. I just had been in the area one time before for two days and this was in February which was a bit off-season. Most of the hotels and restaurants were closed. September was perfect and I could imagine that the summer season would be nice too. Definitely a German destination to visit again.
If you like this post, I would be very happy, if you would share it <3