Actually, I stopped in Morro Bay by accident. Morro Bay? Yes! I was on my way back to Los Angeles after a three day trip to San Francisco. I had spend the night before in Monterrey and had been driving the whole day over the stunning cliffs of Big Sur what is one of the best road trips in the world. It was quite a long drive because I stopped a few times to explore the Big Sur highlights. My plan was to spend the night in Santa Barbara but the sunset was faster than me and came while I was still in my car. I absolutely wanted to watch the sunset on the beach and so I decided to stop in the next town. And that was Morro Bay.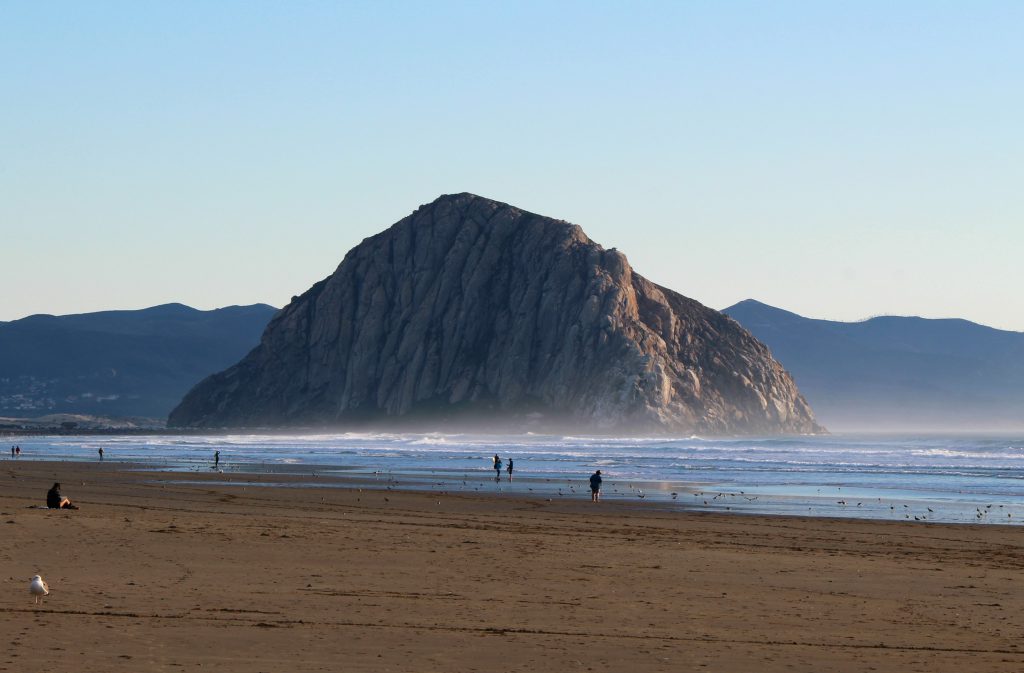 I had never heard of Morro Bay before and it wasn't on my list. When I think back on my arrival, it's a little bit funny, because I asked myself what that crazy huge rock near the shore was and how it had come so close to the shore. I was really fascinated. Morro Bay is the hometown of Morro Rock which is obviously a famous landmark in California (I googled it.) The rock is almost 600 feet high and it is connected to the shore by a causeway. But climbing on it is forbidden. The view to the rock is super cool and also kind of unreal.
Morro Bay offers a lot more. As for me, I had a very good time on the beach, taking photos and enjoying the sunset. The town seemed perfect for a relaxed getaway. It was very calm, with cute houses and so much nature around it. It is a fishing town and offers some tourist attractions and activities. You can read and download a PDF-guide from one of the tourist websites here if you are interested.
So in the end I was happy to visit this place by accident as I mentioned at the beginning. I mean, I'm sure I would have been disappointed, if I would have missed it and read about it later. I hope you like it as well! Have you ever discovered a place on your vacations you had never heard about before? Or are you more of a perfect planner who needs to know everything about your route and destination?