I've never thought that I could live in a hotel, but my last stay in Los Angeles changed this thinking… It was my last day in Boston and I was still searching for a hotel in LA. My first plan was to stay a few nights in Santa Monica, but since I'm not a millionaire that was not possible. I found the Farmer's Daughter Hotel on "Hotel Tonight" and even if that hotel is not a cheap one as well, that's for sure, I couldn't resist! It's so cool.

The location:
In one my favorite districts of LA, right across the road from The Farmers Market and The Grove and a stroll away from Melrose Avenue where the heart of every shopping girl beats faster. So the location is perfect for LA. But you need a car or an UBER to go to the beach! It's a 20-30 minutes drive to Venice or Santa Monica.
The design:
It's a stylish boutique hotel with modern and very hip decor, residential and country chic inspired, with nice art and design details in the rooms. Things like rocky chairs and plaid curtains create a cool farmhouse vibe.
In addition the hotel features a small pool, Whiskey tasting everyday and fresh water and chips at the front desk.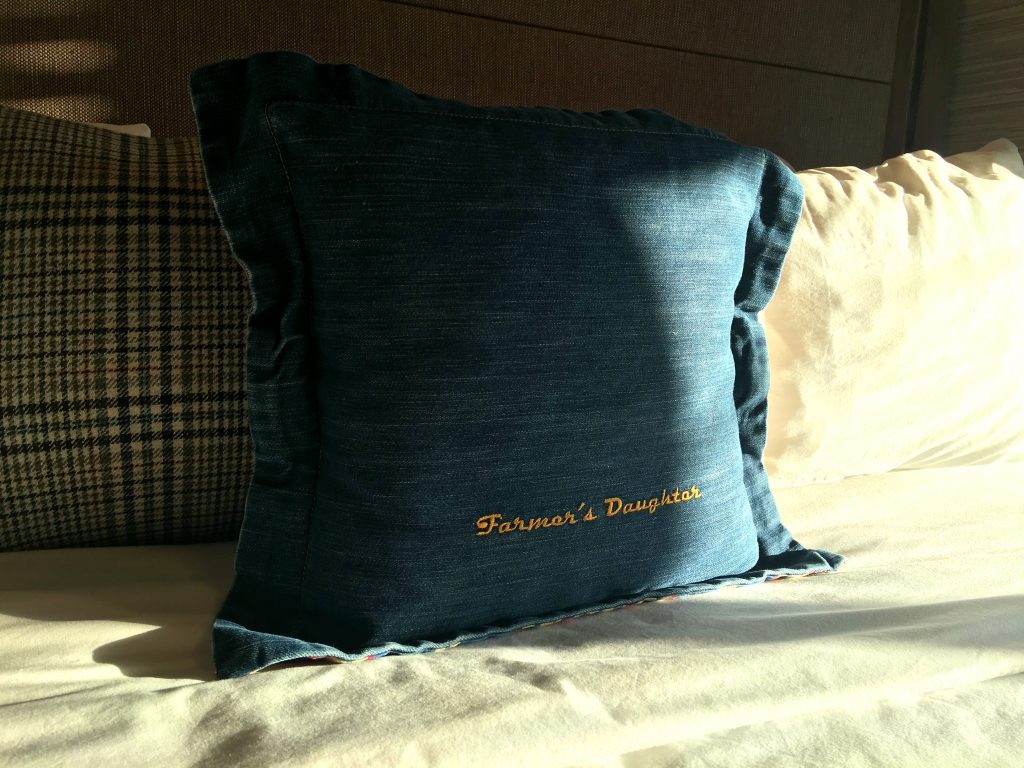 The room:
I stayed in a Robin Room wich offers a build-in couch, a coffee maker, a very comfortable queen bed, curated books by Taschen and a big Hollywood mirror. The room is quite big and very clean. I loved it. My room was cleaned everyday. In addition I got a small bottle of Prosecco and a bottle of water on my first day and fresh chocolate cookies everyday. The people at the front desk and in the restaurant were kind and helpful.
The food:
The hotel hosts the TART restaurant where I had dinner from time to time. My favorite are the Crispy Fried Brussels Sprouts with a sunny side egg. I didn't try the brunch menu but I'm sure it would have been very good as well.
And the last words for the hotel:A Boutique Los Angeles Hotel offering down-home hospitality, residential & country inspired rooms located walking distance to Museums, Farmers Market, Grove Entertainment Complex, CBS Television city. (Farmer's Daughter Hotel website)
–> I can't wait to go back (or to move in ;-))!
Share it, if you like it!