Do you like live music, singing and dancing in a crowded pub, drinking beer and talking to a bunch of people you haven't met before? If you said "YES" to everything, I highly recommend a visit to Dublin. In my humble opinion, the city offers the greatest pub and music scene of Europe.
The vibrating heart of the city is Temple Bar, a quarter on the south side of the Liffey river. Today, it is the cultural center of Dublin and has a very Irish and traditional look. Small shops, a lot of pubs, old but renewed and colorful houses, restaurants, cafés and musicians in the streets are all part of the one and only Temple Bar atmosphere.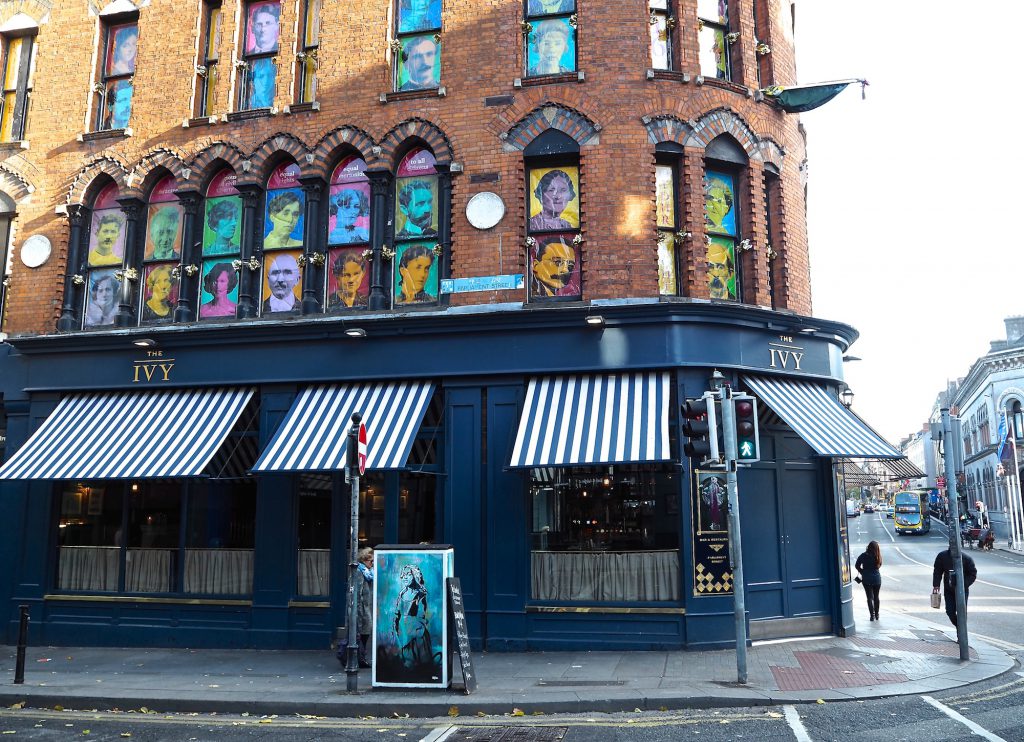 Where to stay
It was my fifth time in Dublin this year and every year I stay at a different hotel or hostel. I first stayed at The Harding Hotel in 2010 and returned this year, which is a good sign. What I like there are the big rooms and bathrooms. The hotel in Fishamble Street is very close to the "party and pub center", it is classic, clean and the staff are helpful and friendly. Another hotel I highly recommend is the Fleet Street Hotel. It is in the center of Temple Bar. Even though it was cold in November, we left our coats in the hotel because we only had to walk 2 minutes to the pub next door. The staff were as helpful as in The Harding and on the other side of the street there was a grocery store which was perfect for us.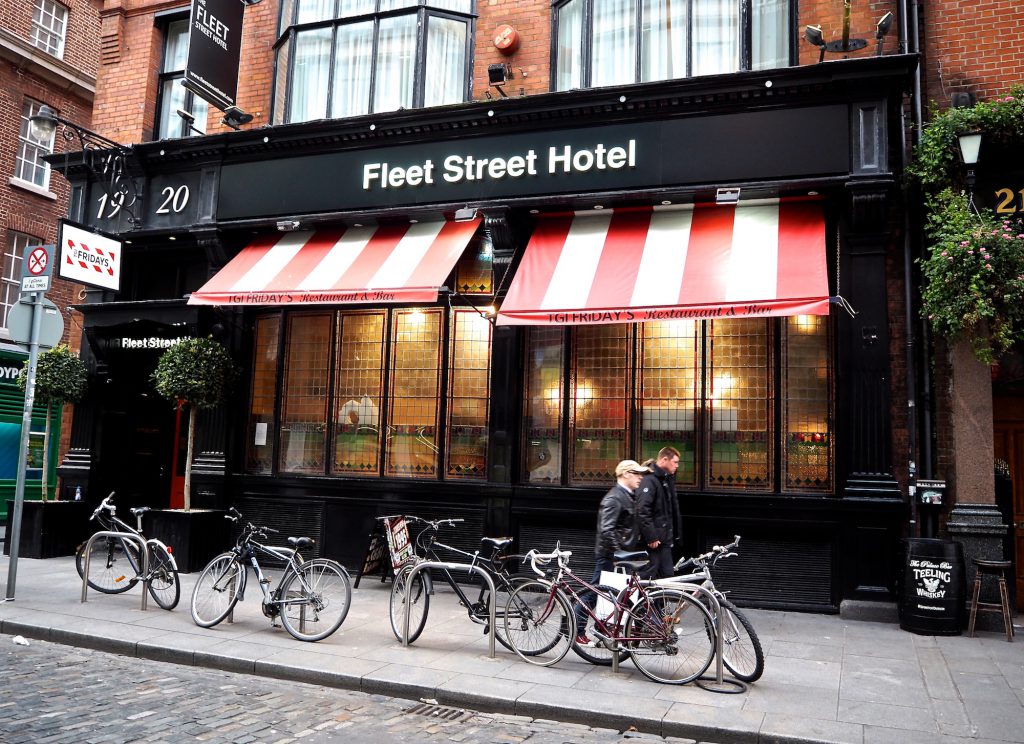 Barnacles Hostel, a hostel which offers double and twin rooms too, is OK, if you want to save some money. Our room was clean, but very, very, very small. There were only small aisles between the bed and the wall. My sister and I had a double bed, but only one duvet.
The St. Gogarty's pub offers hostel rooms too, but I wouldn't recommend it. The bed and bathroom were old, not very clean and the room was uncomfortable. Our only window had a view to the restaurant, which meant no fresh air or daylight. I also tried The Blooms Hotel which offers not only a pub but also a night club. That was not my cup of tea either, because you could hear the beat of the music and people screaming all night. Besides that, the room was not the newest and not very cozy.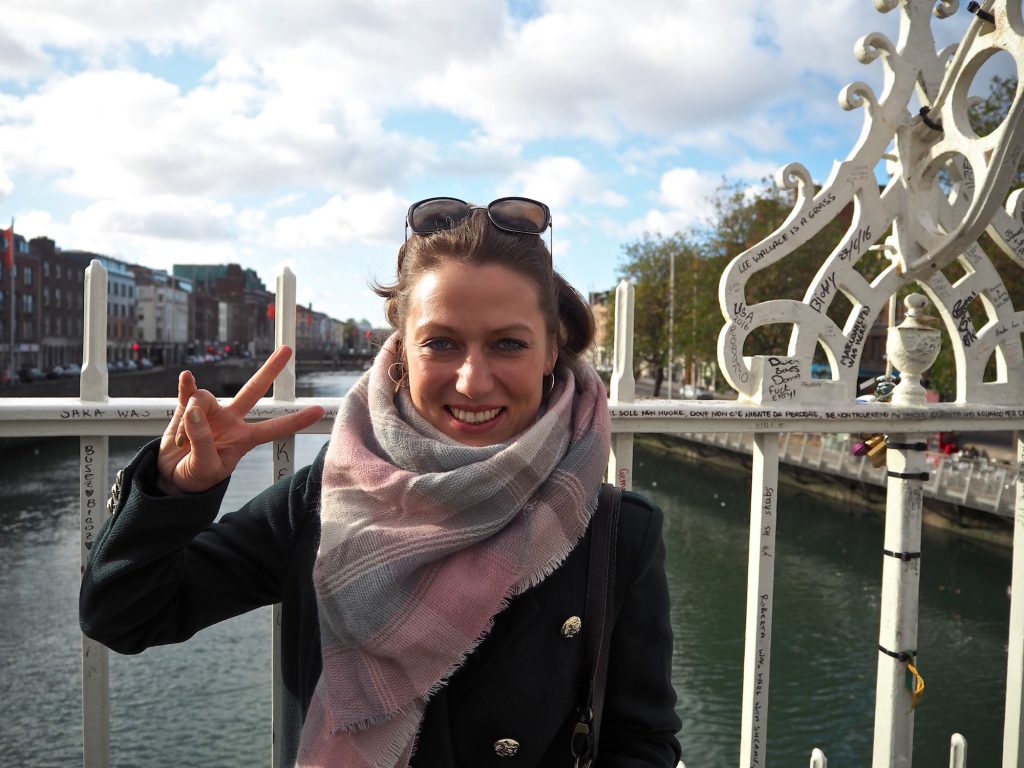 Where to party
Temple Bar is the very best place to party. I celebrated my own birthday and my sister's birthday there and it was fantastic every time.
Start your evening with burger and chips or Irish Guinness Stew at The Quay's restaurant and get ready for a pub crawl which you will do for the next few hours until 2.30am on weekends and 1.30am on weekdays. When dinner is finished, go downstairs and take a look at The Quay's stage. The party should be in full swing with groups of young people who will be dancing, drinking and singing. If you like the musicians on stage, order a Guinness and stay. If not, go further and try The Temple Bar pub. This is my favorite. I enjoyed great nights there with very talented musicians on stage like Clare Peelo, Dave Browne, Dave Houston and The Hooligan Elephant. But if you want to go further, there are plenty of options. A few blocks away is The Auld Dubliner. This pub is often very crowded. Too crowded for me but the party always seems great. Opposite The Auld Dubliner is St. Gogarty's pub. They also have live music and in between live music, they play pop classics – not live but also fun when you want to dance.
The Ha'Penny's Bridge pub is worth checking out and good for a surprise. I spend a night there listening to a jazz guitarist which was super cool and inspiring.
Where to go shopping
There are two main shopping centers in Dublin. Both are close to Temple Bar. I couldn't pick a favorite, because there are different shops and I like them both. Grafton Street is just around the corner from Trinity College and reaches St. Stephens Green at the end, the biggest park of the city. The other shopping area is on the other side of the Liffey. Take Ha'Pennys Bridge to get to Henry Street. Around Henry Street and O'Connell Street are all well-known brands like Mango, Pull & Bear and Zara, but also small vintage and music shops where I bought some band t-shirts.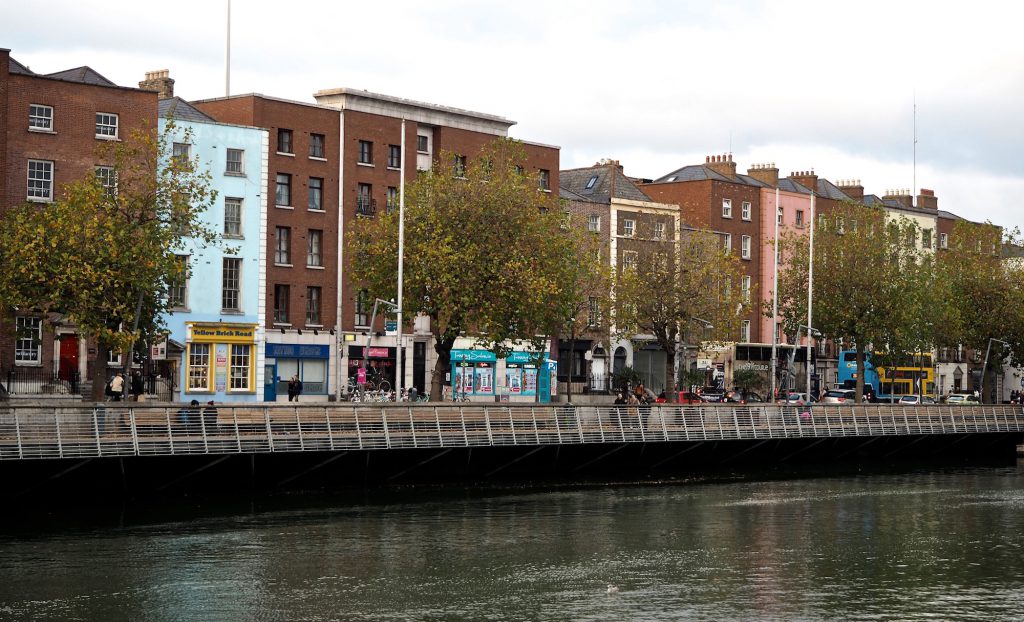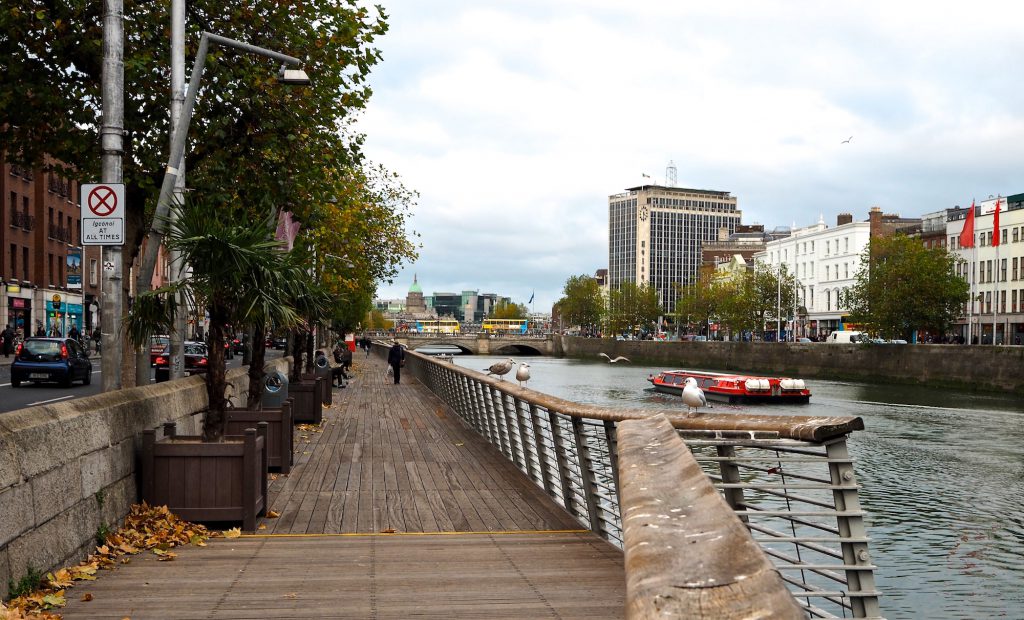 Other things to do
Here is a list of things I have done and would do again. Feel free to get in touch if you have any questions or need more advice!
A visit to Trinity College
An afternoon at St. Stephens Green
A short visit to Dublin Castle
A tour of the Guinness Storehouse
A guided tour of St. Jameson Whiskey Distillery
Eat Full Irish Breakfast (–> I recommend the Quays again or Elephant and Castle!)
A walk at the Liffey
Share it, if you like it!