It was last year in June during my US East Coast trip, when I visited Miami Beach for the first time. In advance, I spent days, maybe weeks, choosing a hotel for my stay. I got really stressed when I started to read the hotel reviews on different websites. Have you ever experienced the same thing? Whenever I start reading the reviews, I can't stop and in the end, I feel like I can't book any hotel or hostel. Don't get me wrong, I'm glad there are reviews. All I'm saying is, that sometimes they make it hard to decide. To make it easier for you, here comes my own hotel review.
I found a lot of hotels in South Beach which looked amazing in the photos, but I searched for the perfect balance of proximity to Ocean Drive, not a 24 hours pool party and somehow affordable rates. There was only one hotel which seemed to offer me everything I wished for (except that it could have been a bit cheaper). Their huge hotel pool convinced me and I've never regretted my decision to stay at The National Hotel.

The location:
The hotel is very well located in Collins Avenue and only a short walk away form Ocean Drive. That allows you to be out for dinner and drinks without paying for a taxi or an UBER at night. It is also very close to the shopping area on Lincoln Road and right around the corner are a few bike rental stations where you can take a bike and ride it up to Miami Beach pier in 15 minutes.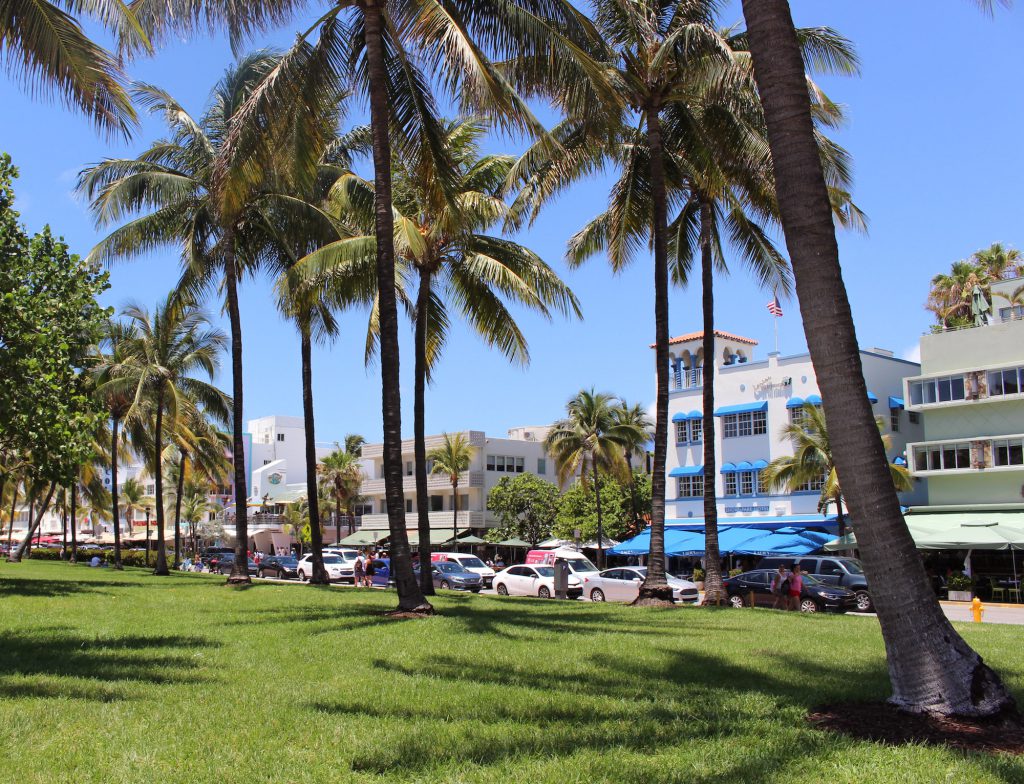 The design:
It has the classy style of Art Deco which takes you back to the late 1920s. The decor is sophisticated and looks simply cool with its leathers chairs, reddish-brown and mahogany furniture. The design is very clear and I felt like I was a part of 'The Great Gatsby'.
The highlight (and also my personal highlight) of the hotel is the 203 feet long infinity swimming pool. I enjoyed swimming here every early morning entirely alone which was amazing. After that I chilled in a hammock right beside the pool bar until midday.
The room:
I stayed in a standard room with city view on the 7th floor. I couldn't hear any street noise but sometimes I could here the girls in the next room talking. That was OK, because they didn't throw parties at night, but a sign that the rooms are not perfectly soundproofed. The size of the room was fine, enough space for one or two people, and with the same Art Deco style as everywhere else in the hotel. The bathroom was quiet small but very clean.
The food:
The hotel features a restaurant and a bar with live jazz music some days. In addition to that is a bar at the pool where you can order cocktails, non-alcoholic drinks, coffee and snacks. I didn't try the food at the hotel but I did order cocktails and coffee and both of which were very good.
And finally a word from the hotel:
Nestled in South Beach's celebrated Art Deco neighborhood, our oceanfront resort evokes cinematic elegance, boasting 116 newly designed city and direct ocean view guestrooms in our Historic Tower and 36 luxurious cabanas and suites, skirted alongside native tropical palm trees and Miami Beaches longest infinity-edge pool. (The National Hotel website)
Share it, if you like it!