Coffee shops are like my second home, especially in Venice Beach. I like working there with my laptop and a cup of coffee. Normally, they have a laid-back atmosphere. Some guests are on their own, some of them are working, some are chatting or reading. During the last month while in LA, I worked a lot on my blog, on collaborations and my social media channels. I didn't want to do this all day in the house, so I decided to try different coffee shops in Venice Beach and create this blog post about my personal top 10.
Espresso Yo'Self
Address: 1827 Ocean Front Walk, Venice, CA 90291
As soon as you get to the Venice Beach boardwalk you can grab a coffee at this window called Espresso Yo'self. They have all kinds of coffee and it is a good choice when you stroll through the creative and artistic boardwalk shops. A sitting area is provided outside, but I prefer the coffee 'to go'.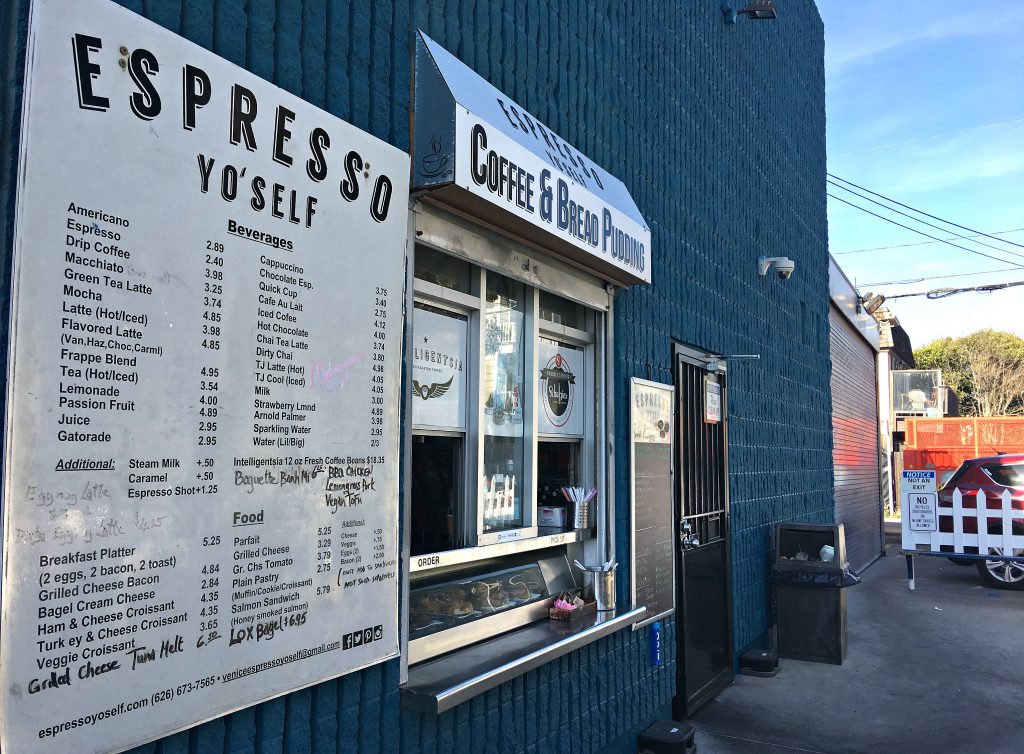 Intelligentsia
Address: 1331 Abbot Kinney Blvd, Venice, CA 90291
I visited Intelligentsia in Venice Beach and in Silver Lake and both locations are designed as an open space, which attracts a lot of creative people to work there. The coffee is great and I also recommend you try the pastries. I loved the atmosphere and was able to write a lot at Intelligentsia. (I took the photos in Silver Lake!)
Abbot's Habits
Address: 1401 Abbot Kinney Blvd, Venice, CA 90291
A choice between different kinds of espresso, cold brew, latte, mocha and cappuccino and twelve signature sandwiches – that's Abbot's Habits. Of course there's more to eat, but I would recommend you go for one of the their famous sandwiches. The Wifi works perfectly, the style is relaxed and cool like Venice itself. No outside seating. You can never go wrong with Abbot's Habits.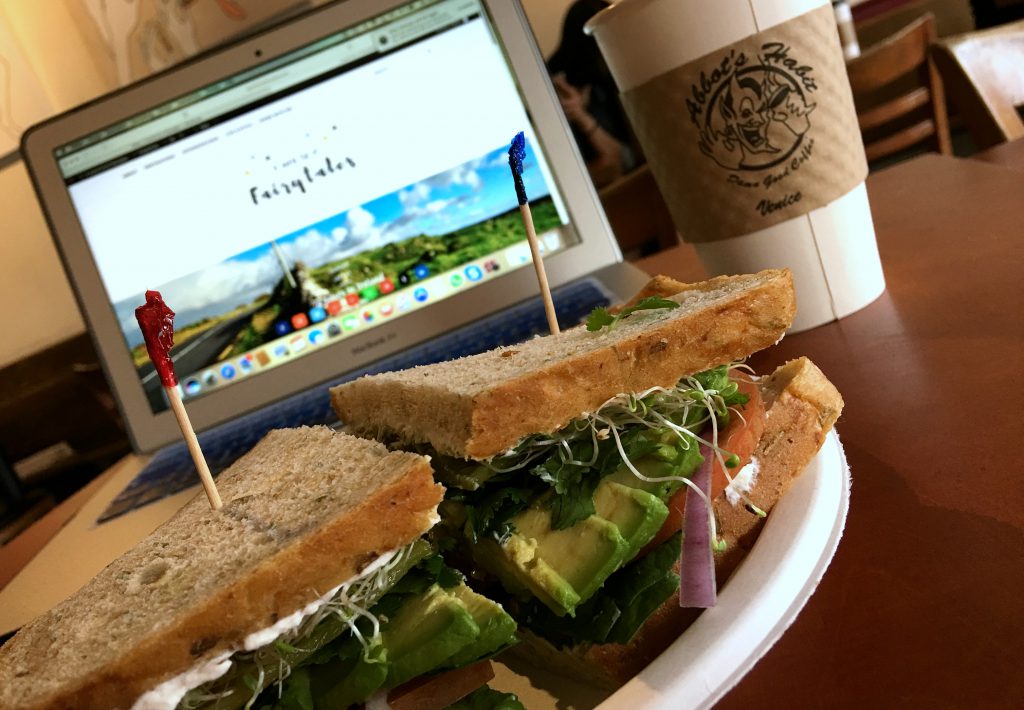 Superba Food and Bread
Address: 1900 S Lincoln Blvd, Venice, CA 90291
Everything is possible at Suberba: You can have breakfast, lunch or dinner as well as grabbing just a coffee and working and sitting on your own. It's also a great place for meeting business partners or friends. It has a very stylish design and is located next to a few shops where you can buy products of local designers. I ordered the brussel sprouts and a Latte. Coffee and brussel sprouts were very good. This is definitely a place to check out, when in Venice Beach.
Gjusta
Address: 320 Sunset Ave, Venice, CA 90291
If you walk through the door of this house in a backyard of Sunset Avenue near Gold's Gym and you feel like you are standing in a bakery, then you are at Gjusta. This awesome spot in Venice Beach is more than a bakery. Pull a ticket and order breakfast, sandwiches, meat, fish plates or salad all day. I had a kale smoothie, coffee and a trevino lettuce and everything was very high standard.
Blue Bottle Café
Address: 1103 Abbot Kinney Blvd, Venice, CA 90291
Blue is my color, so I was motivated when I walked to the Blue Bottle Café on Abbot Kinney. This is a small and sleek designed coffee shop in Venice Beach with a good choice of different coffee options and some pastries. No seating except a bench outside, but the coffee is very good.
The Butcher's Daughter
Address: 1205 Abbot Kinney Blvd, Venice, CA 90291
Like Suberba the Butcher's Daughter is more than a coffee shop. It's one of the most popular restaurants in Venice Beach and offers only vegetarian (mostly vegan) food and drinks. What a great name btw. The coffee was very good and my breakfast burrito delicious. You can sit at the bar or a table and the whole places has a bright design. I really felt comfortable and worked their for hours.
Menotti's
Address: 56 Windward Ave, Venice, CA 90291
Now we are entering the top 3, starting with Menotti's Coffee Stop. I had never thought that this coffee shop would be so good, because it is located only a few steps from the famous Venice boardwalk and most of the coffee shops on the boardwalk are not my favorites… Except for this one. The coffee is awesome and so is their organic muesli. Make sure to grab a coffee here, it's very close to the Venice sign.
Groundwork
Address: 671 Rose Ave., Venice, CA 90291
Everything here is organic and you can also buy the Groundwork organic signature blend coffee for your own coffee maker at home. Or you can grab your coffee in the brick building and sip it outside on the bench. It's absolutely a coffee community at Groundwork. I got to know very friendly people. Even though they have Wifi, I didn't work so much at Groundwork, but instead dived into interesting conversations with the other people on the bench who grab their coffee at Groundwork everyday.
Flowerboy Project
Address: 824 Lincoln Blvd, Venice, CA 90291
It was hard to decide which coffee shop is the best. Groundwork has definitely the best atmosphere and delicious coffee. Flowerboy is a bit too hip and sophisticated for me which destroys the laid back coffee shop atmosphere. Besides coffee, food and juices, they sell flowers and products from local designers which is cool but very expensive. Let's come to the coffee. The coffee is outstanding. It's the best coffee I've ever had. Seriously. They put some rosemary on top of your latte and it tastes amazing!
Share it, if you like it!