It is going to be THAT time of the year very soon and we have to plan our Christmas and winter travels. Do you already know what to do? To leave Berlin at least for New Years Eve is important and mandatory because our little dog Mischa is so scared of all the fireworks. It is just too much trouble and she does not know what is going on. Last year we decided on Denmark and Sweden to get some rest und do some Scandinavian shopping. The first part was more about getting some rest – especially on New Years Eve – and we arrived safe and sound at our first stop in Denmark.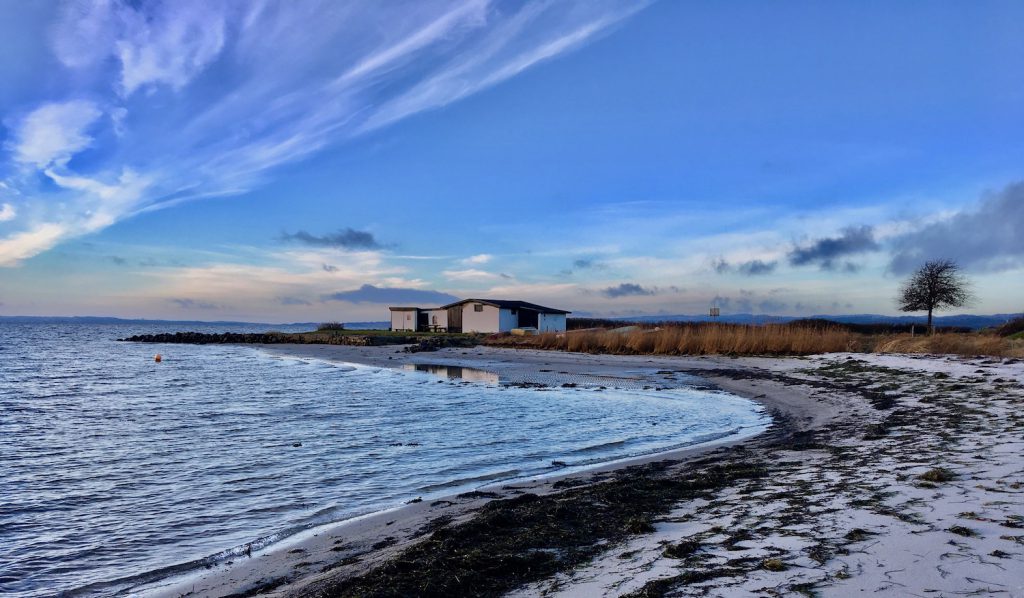 First stop: Ebeltoft, Denmark
We took the car for a small road trip from Germany to the Eastern side of Denmark where we had rented a cottage with ocean view (!!!). It was located in a small town called Ebeltoft. As expected, the weather was cold, but the house was really nice and close to the beach where we took long walks with the dog. New Years Eve was calm, just small fireworks at midnight – perfect for the dog. We had a fire place in our cottage and a whirlpool too. You would definitely need a car in that area to explore the surroundings, but if you have one, there are a few destinations to go.
Second Stop: Aarhus
Just 45 minutes away from Ebeltoft is Aarhus, the second-largest city in Denmark and our destination for a one day trip. Aarhus is not SOOO exciting, but has nice restaurants, cafés, shops and cute streets and markets. Even though Aarhus is the second-largest city in Denmark, it is still small with just a bit more than 300k people living there. It was nice to stroll around, but not worth to stay longer than a day.
Third Stop: The ferry
I love the ocean, being on the beach and so, of course I loved being on a ferry too. Fortunately, the best way from Denmark to Sweden was the ferry from Frederikshavn to Gothenburg. You can take the car with you and the ride is about three hours. We had the perfect conditions. Blue sky and sunshine overall. A super nice winter day and we enjoyed the transit very much. We took the StenaLine ferry and it was super convenient and also cool with the dog.
Fourth stop: Gothenburg
The Swedish city was a bit of a surprise, because somehow I did not expected it to be so nice. I had visited the city just for a few hours almost 25 years ago (gosh, I am getting old) and did not remember so much of that time. The cutest area of Gothenburg is definitely Haga. It is the hipster area with traditional wood buildings and cobblestone streets, lined with candlelit cafés and pubs. But better for shopping is central Gothenburg which is home to a lot of modern and stylish Scandinavian brands and shops like Grandpa, ACNE Studios or Vallgatan 12. We had only three days in the city and I would have needed more to explore more including the surroundings.
Overall
As you maybe already know, I love Denmark and Scandinavia. Not as much as California, but it is still nice and I went to those countries every year as a kid. If you are not afraid of cold winter days, pack your warmest clothes and enjoy a time full of rough nature, stylish shops, fresh air and good food. But keep in mind: If you are going in winter, prepare yourself to be able to light a chimney.
Share it, of you like it!